Activities
GAYATRI Educational Project
Objectives
Closure of schools for more than two years due to COVID pandemic has terribly affected thousands of underprivileged students in Dhaniakhali block of Hooghly District, West Bengal. Many of them have left their schools and a significant number have almost become child labourers.
Through Gayatri Educational Project we are trying to bring them back to the main stream of life through education.
We provide parallel education and necessary support to the underprivileged students irrespective of caste, creed and religion.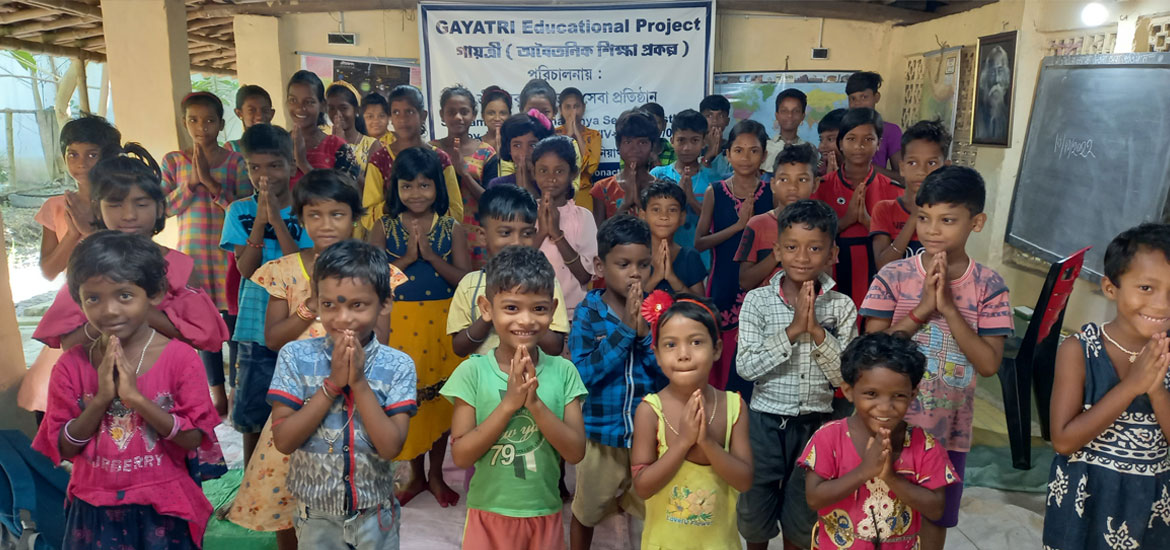 Project Details
We attempt to bring back the children's interest to education through playful methods of learning and inspire them towards higher education.
The students practice Yoga, Pranayama and Meditation on each day before the start of their educative session under the guidance of expert yoga teacher. It helps in improving their power of concentration and develop their minds.
Most of the underprivileged students use to come to the education centre empty stomach. So, we try to provide our students with a healthy breakfast everyday. It consists of a boiled egg, 200 ml. milk, biscuits and other local supplementary food.
Besides traditional chalk-board classes, we have planned to take audio visual classes with the help of projector, computer and smart T.V.
Educational models, especially on science (physics, chemistry, biology) and geography; charts, maps, small instruments (lenses, magnets, test tubes, litmus papers etc.) are used for practical experiments and demonstration.
Special classes are arranged to make the children aware of the glorious traditions and rich cultural heritage of India
As all the students in this project are from underprivileged families, we try to provide them a new school bag, a new school uniform, a sweater or woollen garment (in winter) each year.
Criteria for the Selection of Teachers:
The candidate should have an experience of teaching children face-to-face at least for 3 years.
Primary: The candidate should be a class 12th pass and who are continuing or have completed Graduation are preferable.
Secondary: The candidate must have passed Graduation from a recognised university.
Duration of Project: Initially for 3 years. If we find positive response and necessary support,we shall continue it.
Project Location: Manima's Ashram at Village – Mukundapur, P.O.- Lokabati, P,S.-Dhaniakhali, District – Hooghly, West Bengal
Number of Students/Beneficiaries: 120.
Academic Classes: Class 1 to class 8.
Number of Teachers: 6
For Primary section (Class 1 to 4): 3
For Secondary section (Class 5 to 8): 3
Class Schedule: From 6-30 a.m. to 9-30 a.m.
Days: From Monday to Friday, (5 days in a week).
Yoga, Pranayama, Meditation session: From 6-30 to 6-45 A.M.
Breakfast: From 6-45 to 7.00 A.M
Academic session: From 7.00 A.M to 9.30 A.M.
Number of Periods: 3
Duration of period: 50 minutes.
Project Cost
A. Monthly Expenses:
Teachers' Salary: Rs. 4000 x 6 = Rs. 24,000.00
Students' Breakfast: Rs. 10 x 120 students per day x 22 days = Rs. 26,400.00
2 Copies for each student: 2 x @Rs.25/copy x 120 students = Rs. 6000.00
Pen, pencil, eraser, chalks etc. for the students: Rs. 15 x 120 = Rs. 1,800.00
Teachers' tea and biscuits: Rs. 8 x 6 teachers x 22 days: Rs. 1,056.00
Miscellaneous expenses: Rs. 1000.00
Total monthly expenses: Rs. 60,256.00 (Rupees Sixty thousand two hundred fifty-six only).
Total annual expenses: 7,23,072.00 (Rupees seven lakh twenty-three thousand seventy-two only).
B. One-time Expenses:
School Bag: Rs. 300 x 120 students = Rs. 36,000.00
Sweater/ woollen garment for students: Rs. 400 x 120 students = Rs. 48,000.00
Books for the students: Rs. 400 x 120 students = Rs. 48,000.00
Educational aids (scientific instruments, models, maps, charts, globe etc.): Rs. 10,000.00
Floor Mats: 30 nos. x Rs. 250 = 7,500.00
Blackboard: 4 x Rs. 1400 = Rs. 5600.00
Whiteboard: 4 x Rs.1200 = Rs. 4800.00
Record Books and Report cards: Rs. 4,000.00
Students prizes (yearly): Rs. 12,000.00
Sports and other celebrations (yearly): Rs. 30,000.00
Total One-time expenses: Rs. 2,05,900.00 (Rupees two lakh five thousand nine hundred only)
Total Project Cost for 3 years: One-time expenses + annual expenses for 3 years = Rs. 2,05,900.00 + (Rs. 7,23,072.00 x 3) = Rs. 49,27,000.00 + Rs. 53,40,960.00 = Rs. 23,75,116.00 (Rupees twenty-three lakh seventy-five thousand one hundred sixteen only.)
Timeline and Projected Target
1st year:
All the students will be made able to read and write well both in Bengali and English. They will be able to learn the basic conceptions of science and mathematics. The students will be made aware of how to pursue their well-being with the help of education.
2nd year:
They will be aware of the pros and cons of their environments, their social position and their own ways of development.
The students will be encouraged to go for higher studies.
The basic support for their higher studies will be provided as much as possible.
3rd year:
Successful students from each village will be specially taken care of throughout the year so the they can play exemplary roles for the awareness of their own underprivileged communities.
The education project will make a difference in their social scenario.
The educated, well-aware and ambitious students will help to change the socio-economic position of their own community and lead it towards the path of real development.
Project Monitoring
A project monitoring committee will be formed to monitor the project throughout the year and prepare half-yearly reports. It will consist of one representative from Sri Ramakrishna Chaitanya Seva Pratisthan charitable trust, one representative from each underprivileged communities from which the students will be enrolled and two representatives from the guardians (mothers of the underprivileged girls will be preferable)
Our Appeal
Education is the backbone of our nation. Unfortunately, at present (after pandemic), the education of underprivileged children in this locality has been strangled in sheer darkness. Gayatri Educational Project of Sri Ramakrishna Chaitanya Seva Pratisthan is making an earnest effort to make the difference in the lives of at least some students.
We make a solemn request to you to support this endeavour. Your contribution shall qualify for deduction u/s 80G (5) of Income Tax Act 1961. Let's try together to provide education for these children and enable them to prosper into an enlightened future.
Our Bank Details:
Sri Ramakrishna Chaitanya Seva Pratisthan
State Bank of India. Dhaniakhali branch.
Current A/c no. 38933417648
IFSC Code: SBIN0010545
Google Pay / PhonePe – 9831177519