Activities
Sri Krishna Temple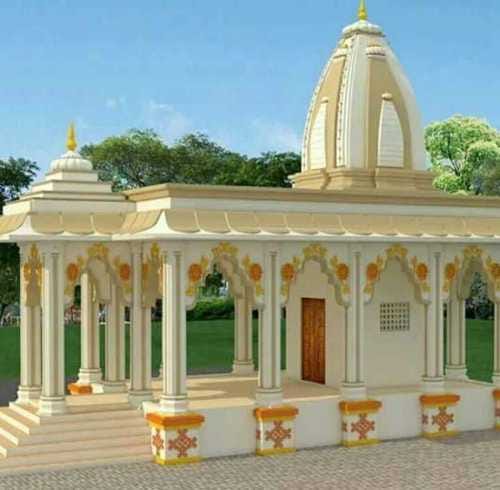 A Miracle in the Making ~ Home of Our Divine Protector, Lord Sri Krishna
The devotees of Sri Ramakrishna Chaitanya Seva Pratisthan (Parul Ashram) are truly blessed by Lord Sri Krishna as we could take part in the construction of His beautiful Temple at Mukundapur ashram, Dhaniakhali in Hooghly district of West Bengal.
Lord Sri Krishna, is not in need of anything from anyone; but when we offer Him something according to our own capacity, He blesses us with everything we wish to have in life.
The main temple building is estimated to be around 1,000 square feet. Phase 1 of this Temple Project is estimated to be around 25 lac, Phase 2 will feature Guest house, Auditorium & Community Kitchen with an estimate of around Rs. 85 lakhs for its accomplishment.
We earnestly appeal to our friends, benefactors, donors, devotees, and the generous public to contribute generously and invoke the divine blessings of Lord Sri Krishna on your family. Please do not miss this once-in-a-lifetime opportunity!
You can also select a donation option you are comfortable with. Even the larger sponsorships can be paid in 2-3 years making it only a small amount every month to commit to.
Donate for a Sq.ft of Temple Construction, at least one square foot which is only Rupees 5,501/-
Donate for a brick of Temple Construction, at least one brick which is only Rupees 101/-
On Sponsoring A Square Foot You will Receive the Following:
Special Maha-Prasad will be sent to your Doorstep.
Special Prayers will be offered to the Lord on behalf of you.
Tax Exemption under 80(G)
Your Name would be inscribed on white stone or copper and placed on the wall of the temple.
Any financial help or Donations to the Sri Ramakrishna Chaitanya Seva Pratisthan are exempt from Income Tax under Section 80G(5)(vi) of the Income Tax Act. 1961 vide Approval no. AAITS5765N20210 dated 01-10-2021, which is valid till 31-03-2027.
Bank Details :
Name of the Payee – Sri Ramakrishna Chaitanya Seva Pratisthan
Name of the Bank – SBI BANK
Branch Name – Dhaniakhali
Account Type – Current
Account Number – 38933417648
IFSC Code - SBIN0010545
PAN NO. – AAITS5765N
CONTACT NO. – 9007783275
E-MAIL – parulashram2004@gmail.com
NAME OF THE DONOR, FULL POSTAL ADDRESS, CONTACT NO. & PAN OF THE DONOR MUST BE INTIMATED THROUGH E-MAIL AFTER REMITTANCE OF DONATION THROUGH NEFT /RTGS/ ON-LINE MODE.